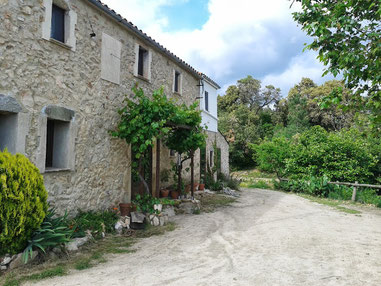 * BASIC PHILOSOPHY
In Can Canaleta we have moved the way we do and understand life, and we want to share it with you . This is an open house to everyone regardless of race, creed and/or sexual orientation.
OF course have rules and routines need to asure everything works as it should.This is not a five stars hotel, but it's a luxury it self. And it is because the place , the environment , the space , the silence and the sounds , we asked not to bring to mountain that by which we escape from city . We have a serious commitment to the environment , so we recycle waste , reuse materials, filter it and we treat gray and black water , carry the oil to the collection center (which is 20km far... ) , both heating and hot water we get it from biomass burning and understory we collect  , we reject GMOs, collect the trash that some people left in the forest , seek trade " km0 " and proximity, we water our garden with well water only and do not use any chemical fertilizer or pesticide ...... and it shows! why we are what we eat.
* WIFI
- WIFI service available 3 megs free.
* MOBILE COVERAGE
- Because of the location of the house , the mobile phone companies offering better coverage  are Movistar and Yoigo.
* CREDIT CARDS
We do not accept credit cards , sorry for the inconvenience .
* FIRE
- It is strictly forbidden to light fires in the woods, throwing cigarettes and trash of any kind. IT'S EXTREMELY DANGEROUS!
* MOTOR VEHICLES AND PARKING PLACE
- As we believe that silence is music, we have banned the movement of motor vehicles throughout the property . Quads and motorbikes are not allowed and the only road traffic is reserved for guests to arrive to the house or to leave it. To avoid noise, we have abled a parking place beside the house, this way , cars doesn't pass infront of where you stay. As is hidden by the trees, we also avoid the impact on landscape .
* PETS
 'Unfortunately , and although we love , we can not accept pets in the house cause have a dog , cat , sheeps and chickens.
* MEALS
- All meals , either inside ( winter) or outside ( summer), are served all sitting together around a single table .
* OTHER ANIMALS
- Flies , bees , mosquitoes , ants, smells different to usual , as were at the Garden of Eden ..... and in Can Canaleta when we arrived. Welcome to the real nature!
* CHILDREN
- For they have board games and outdoor . We love children ... please bring them !
* SMOKING
- It is not allowed smoking in all indoor areas of the house.
* POOL
We have a brand new pool (july 2014). It's a seawater one, with no added chemical, and wood covered.
*SOLARIUM
-You can enjoy of different areas for sunbathing . Some are communitarian and others are located in most intimate corners.